The Anvil-X Workstation
The Anvil-X Workstation blurs the lines between server and workstation. Premium Intel x299 and AMD x399 chipsets are used for the Anvil-X. The focus is on heavy CPU and/or GPU workloads for extended periods of time. NVME RAID cards and multiple GPU are well suited for this series. Each system is built to your specific work flow to ensure the best experience possible. Be sure to set up a consultation for your custom quote!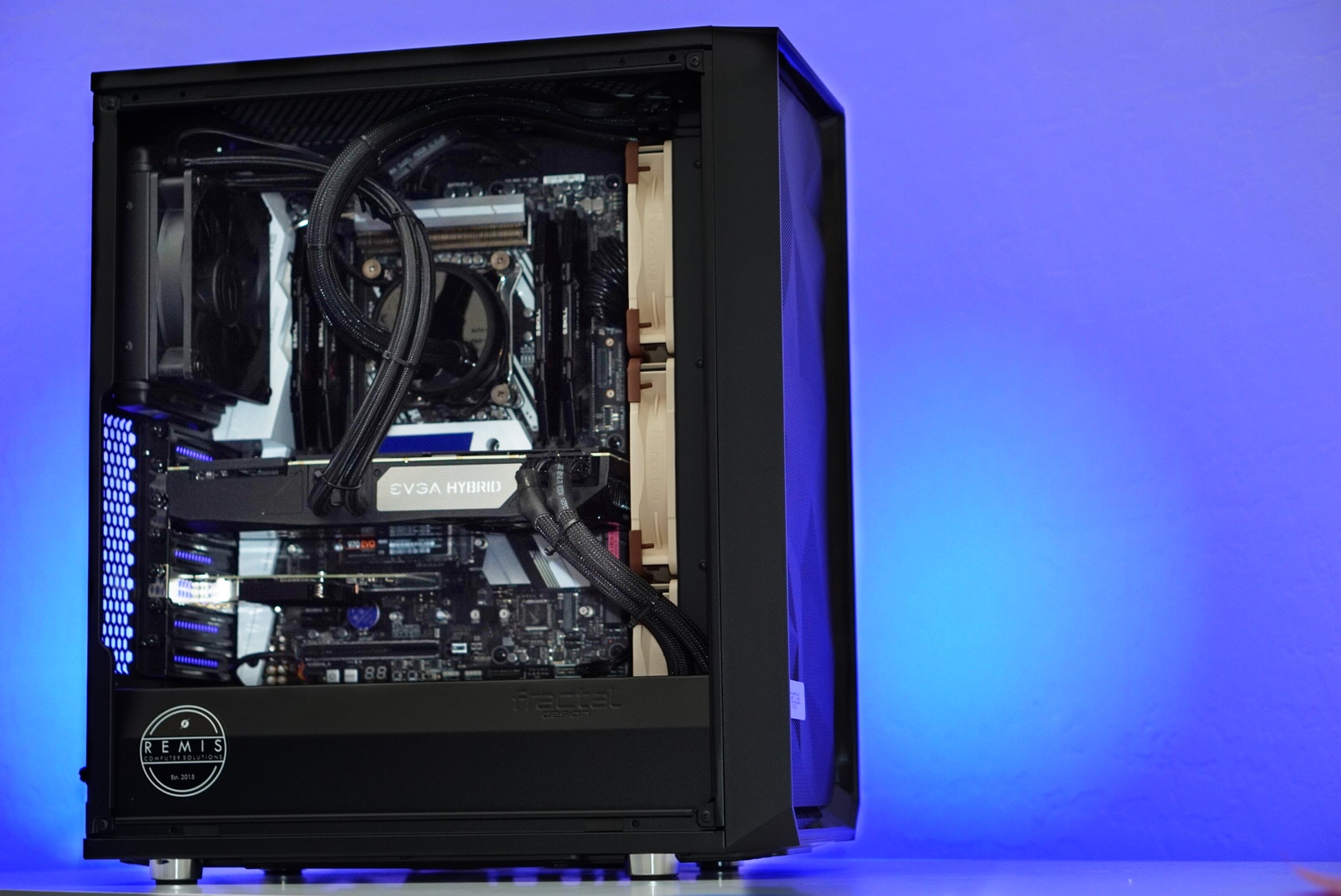 Case: Fractal Design Define C ATX
CPU: Intel i9 9940x 14 core/ 28 thread
Motherboard: Asus x299 Deluxe-ii ATX
RAM: Corsair LPX 64GB 3200mhz (4x16GB)
Video Card: Nvidia RTX 2060 SUPER 8GB
CPU Cooler: Be Quiet! Dark Rock Pro 4 Air Cooler
Storage: Samsung 970 PRO 1TB NVME
Power Supply: EVGA G3 850watt Gold
Operating System: Windows 10 PRO 64bit

PRICE: $5453 + Shipping & Tax
(MANY Configurations available)
Parts Configuration and Upgrades
Chassis:
Fractal Design Define-C w/upgraded fans (16.26"H x 8.55"W x 17.84"D)
Fractal Design Define R6 w/upgraded fans (21.38"H x 9.18"W x 18.31"D)
Custom options can be ordered
Intel CPU:
i9-9920x 12 core/ 24 thread w/Boost Clock Tune (BCT) options
i9-9940x 14 core/ 28 thread w/Boost Clock Tune (BCT) options
i9-9960x 16 core/ 32 thread w/Boost Clock Tune (BCT) options
i9-9980xe 18 core/ 36 thread w/Boost Clock Tune (BCT) options
Xeon - Dual Xeon configurations can be accommodated
AMD CPU:
TR 2970wx 24 core/ 48 thread
TR 2990wx 32 core/ 64 thread
Motherboard:
Intel: Asus x299 Deluxe ii ATX
https://www.asus.com/us/Motherboards/PRIME-X299-DELUXE-II/
AMD: Gigabyte x399 Designare EX ATX
https://www.gigabyte.com/us/Motherboard/X399-DESIGNARE-EX-rev-10#kf
RAM:
64GB 3200mhz (4x16GB) DDR4
128GB 3200mhz (8x16GB) DDR4
(AMD builds may require lower RAM speeds to pass stability testing)
Video Card:
Nvidia Geforce RTX, Titan RTX and Quadro RTX cards are supported. Up to 4 GPU can be accommodated. Nvidia video cards are recommended but AMD video cards can be ordered as well.
Cooling:
Premium Air and liquid cooling options are available. While CPU air cooling is preferred, often times the liquid cooled option is necessary with a high core count CPU. This is a discussion point when building out an order.
Storage:
The storage solution can be customized to your liking. Many configurations are possible in the Anvil-X. Default primary drive is an NVME m.2 drive. Additional m.2, 2.5" and 3.5" SSD/HDD can be configured in high quantities.
NVME RAID:
NVME RAID card solutions are available for up to 8TB of NVME RAID 0 storage for large project files. Please contact for more details. The Anvil-X is perfect for NVME RAID solutions.
Networking:
Intel x550-t2 Dual RJ45 10Gigabit NIC (Optional)
Power Supply:
EVGA G5 850watt and 1000watt Gold Rated fully modular power supplies are available. EVGA P2 and T2 series power supplies are available for 1200watt and higher capacities.
Operating System:
Windows 10 PRO or Linux